Congratulations, and thank you to everyone!
Thank You! Thank you for making the official launch of keebs.gg a special one with our first contest. With everyone contacted, many cables already shipped, and $1,000s USD paid out, it's time to keep the ball rolling.
First, though, congratulations to Meepergon, Doc J, and febustchannel, who managed to grab First, Second, and Third in our contest. Second, congratulations to everyone else who was able to win one of the many other prizes available and to those who won via our Gleam Contest.
Want to take a closer look at the three winners? or just some of the fantastic boards and where they finished, head on to the contest page and click "Show Complete Ranking".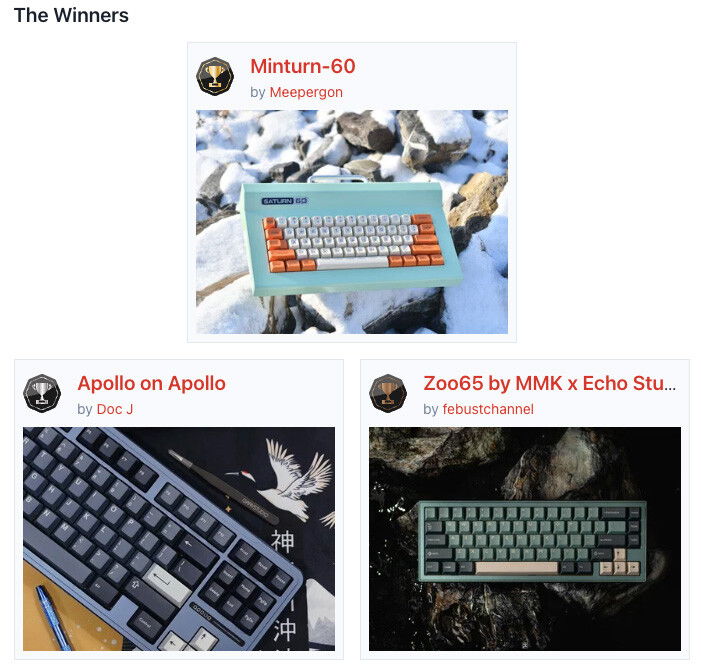 Now, what's next? We're again working with CableMod and one of our favorite Keyboard YouTubers to get a board built and given away. We'll be running this competition via Gleam and can't wait to share it with you. Expect more in the coming weeks. You'll know when it's live, trust us!
We're also working on our first bracket tournament with an American Keyboard Meetup group on the site. This is something anyone who organizes Meetups will be eligible to join moving forward.
Feature-wise, we're also adding a Keyboard Meetup hub – we hope that we can be your home for everything keyboards, be it here on the site, on our Instagram, or Discord – make sure you check out all our socials.
Stay Tuned!
The keebs.gg Team